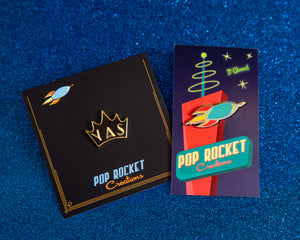 Add a slightly imperfect pin to your order for just $5! 
Options:
Pop Rocket pin: hard enamel glow-in-the-dark pin. The rocket design features an aqua blue body, red fins, a small red lightning bolt at the front, and a yellow lightning bolt at the end; 1.5" with a black rubber backing.


YAS Queen pin: a sassy but classy little black & gold hard enamel pin in the shape of a crown; 1" with a yellow rubber backing.

*these items are not eligible for any discounts